Flower Borders
We are building up a library of pictures here, of the various plants that you will come across at different times of year.
Hover over a small image to see what it is; click on it to enlarge it – but be patient: they may take a little while to load!
Library Border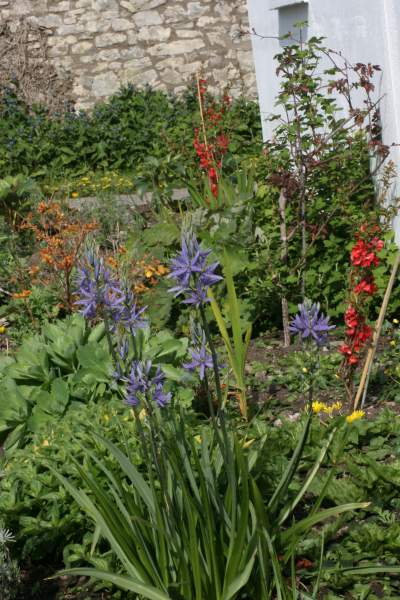 Part of the library border is by the entrance to the library, but there is also a long border behind the library building.
There's one plant in the Library Border that deserves a special mention: the giant Macleaya. Below is a series of pictures, the first taken in March where you can just about make out the stems that we cut down in winter. The other three photographs were taken in July, showing the plant growing halfway up the wall of the library, with a couple of close-ups, one including our volunteer Margaret as an indication of its height.
Raised Bastion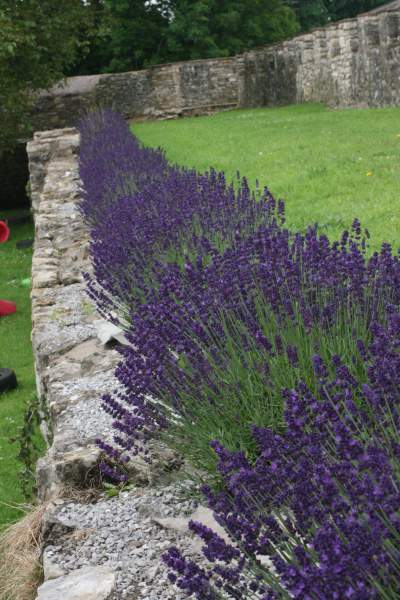 The raised bastion can be reached via steps near the library, or up a grassy slope the other end of the nursery school.
Did you know...?
Each flower of the Rock Rose lasts for only one day! It will shed its petals like confetti.
It provides plenty of nectar for various bees and is also the food-plant for the larvae of several species of moths and butterflies.
Fox and Cubs, which you'll find in the summer months along the wall at the top of the steps, is popular with honey bees, bumblebees, and solitary bees. It is also known as Orange Hawkbit – the hawk allegedly used it to improve its eyesight and our ancestors believed that the plant could

also help them to see better.