Tucked away behind Old Hall on the High Street of Cowbridge, and adjacent to the Physic Garden, lie the tranquil grounds of Old Hall Gardens.
Surrounded by the old Town Walls, this area forms a large part of the restored grounds that originally belonged to the town house of the Edmondes family, dating back to around 1740.
Shoppers use the paths through the gardens as a thoroughfare between a car park and the bustling High Street. A children's nursery and the library stand within its grounds. But for those who are not in a hurry, the choice of benches offers a refuge from the rush of everyday life, and a place for quiet contemplation.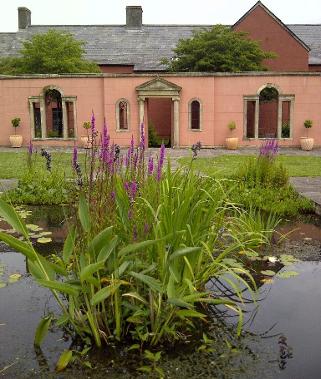 Maintenance and improvement of Old Hall Gardens is one of the projects of the Cowbridge Charter Trust cio, a registered Charity No: 1156293. For more information on other projects that they are involved with, please have a look at their website: www.cctrust.co.uk.
The building known as Old Hall continues to be used as a centre for education and other related activities, and is still run by the Vale Council – there are plenty of courses available, and Old Hall Gardens are the perfect place to relax during the breaks.
You can read more about the history of Old Hall Gardens on our History page.